Harish Iyer espouses many causes. He was one of the few people who appealed to the Supreme Court against section 377, an archaic law criminalising certain forms of consensual sex between adults and one that was often used against the queer community. He is the only Indian listed in the World Pride Power List by The Guardian, among other accolades. Harish has used the lockdown period to provide relief to the oft-forgotten sections of our society.
"I feel happy to share that in the past few weeks, The Jimme Foundation, an NGO that I co-founded, has been was able to provide relief to around three hundred families of sex workers in Kamathipura during the COVID-19 pandemic," says Harish.
The Jimme Foundation's working team consists of Yash, who looks after Outreach and Advocacy, Ria the social media expert, and Harish, who takes care of planning for the best strategy ahead. All three belong to the Queer community. 
Due to the pandemic and the subsequent lockdown, sex work has come to a grinding halt in India. With no daily income, supplies have been hard to come by for the families of sex workers at Kamathipura, in Mumbai.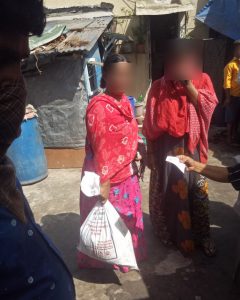 "Our organisation, The Jimme Foundation, was able to implement a relief project for these 270+ odd families along with organisations Citizens for Justice and Peace, and Kranti, an NGO that works with daughters of sex workers. Under my leadership, we were in a position to engage the community itself to help provide them aid safely, and in accordance with UN directives on COVID-19 containment," confirms Harish.
A relief package was constituted. In the first leg, three basics were distributed – oil, rice, and wheat – to 70 families. The relief project ran into an obstacle during this leg causing the distribution of package to be paused. "We wanted to ensure responsible crowd management, least we fan the fire of the pandemic," explains Harish.
"We were able to manage the crowds after our second constitution, with leaner but a more wholesome relief package for the remaining 200 families. Besides, It had become imperative to reduce quantities to cater to more families with our limited funds," says Harish.
In the second leg, the relief package contained essentials but of a lesser quantity so that it could reach a larger group, especially because of the unavailability of adequate groceries for all. "We estimate that our package will be able to tide the families over for the period of the lockdown.
"We have been helping some stray animals in Kamothe and New Panvel area of Navi Mumbai with emergency medicines, care, and food. Companion animals rely on humans for their food. They have been badly hit because of the hotel industry coming to a grinding halt.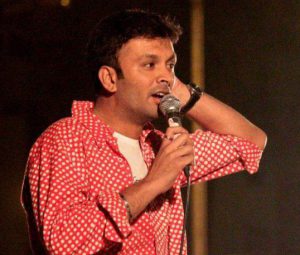 "This lockdown has pushed all of us closer in our homes. Sometimes, too close for comfort. Many of us queer peers have homophobic and transphobic families and we have to suddenly spend our time with them. Same is the case with survivor's of sexual and other emotional violence, where the perpetrator is from the family," says Harish.
"The Jimme Foundation is playing the role of an active empathetic ear in this hour of crisis. We are guiding people in distress to professional counsellors after establishing comfort with the initial listening," concludes Harish.
Being a survivor of child sexual abuse himself, Harish counsels countless survivors of abusive circumstances. He won the BPCL Energising Bharat award and the Zindagi Live award by Network 18 group for his work with survivors of child sexual abuse.
Harish, along with his team at The Jimme Foundation, are now helping to bring attention and support to marginalised communities of daily wage earners. They have collaborated with an initiative called "Feeding From Far" that utilizes the volunteering strength of the same beneficiary community to cook and deliver nutritious meals. You could support the initiative by going here: DONATE HERE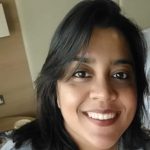 Smita is a multi-cultural freelance journalist, writer, and filmmaker based out of the US, London, Hong Kong, and India. Global Indian Stories is her brain-child. Created to chronicle diaspora stories written by Indians of all age groups, from different walks of life across the globe, Smita makes sure that the platform remains inclusive and positive.