I was not a vegan all my life. My journey began after my lovely daughters Nurbanu (26) and Farin (21) turned vegan about five years back and inspired me to do the same, especially when I started experiencing a lot of muscular pain. They pointed out that I was overall following a rather unhealthy diet. Even though they were right in saying so, I embarked upon going some research on the vegan diet. While doing so, I was pleasantly surprised by all the scientific evidence that I came across, endorsing the benefits of a vegan lifestyle, and I thought I should give it a shot and try it out.
After being a vegan for a few months, the results were so apparent and positive – I had started to feel so much lighter and happier, that there has been no looking back for me. Ever since, I have been experimenting with new superfoods and fresh vegan-friendly brands like Pure Wraps and Plant Pops in particular. These have made the transition from eating a typical "western diet" to whole foods in their most natural state a lot easier. I've been incorporating these products in isolation as a snack or alongside my meals. Pure Wraps are a great alternative to regular wheat wraps you tend to buy off the shelf. It is a wrap made from 100% coconut flesh without the additives and refined sugar and salts.
I have been using this to eat with my vegetable curries, make salad wraps for lunch, and Plant Pops offer a range of flavoured lotus seed to choose from that are a great choice for a movie snack rather than binge eating salty and buttery popcorn. Research suggests the benefits of a vegan diet as one, it helps you lose weight. Two, it adds more nutrients to your diet. Three, it helps lower blood sugar levels and improves kidney functions. Four, research suggests a vegan diet can prevent cancer, and last but not the least, it helps reduce pain from arthritis.
Making food can be time-consuming but I have discovered a quick and simple vegan and gluten-free recipe for pitaya and coconut energy balls. This personally keeps me satiated and energised throughout the day and keeps me feeling full for longer! You can easily store the energy balls in the fridge and consume when you're feeling like having a mid-day snack. It's made from only a few ingredients which are fresh, wholesome and 100% natural. I hope you enjoy these as much as I do!
Vegan & Gluten-Free Pitaya (dragon fruit) Energy Balls by Parin Somani.
Recipe for energy balls:
1 cup  medjool dates (pitted)

1/4 cup pitaya powder or (freeze dried strawberries or raspberries)

1/4 cup almonds

1/8 teaspoon himalayan pink salt (optional)

1/ 4 desiccated coconut (optional: fresh)
For the add-in:
2 tablespoons pitaya powder
  Method :
Place parchment paper onto a tray, then set aside.
Prepare the balls:
Add all ingredients except the coconut for the balls to a food processor and mix it well.

Transfer the mixture into a bowl then roll into a ball shape.

To firm the balls, place them onto a parchment paper and keep refrigerated for 15-30 minutes.

Store in an air-tight BPA-free container in the refrigerator.
Notes :
Serving Size: This recipe will make approximately 10-12 balls.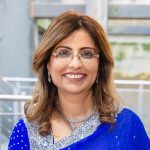 Parin Somani started her career as a television and radio presenter in India, but picked up an ACCA chartered accountant degree in London, giving her a career in banking that spanned over two decades. Her heart was still in writing, leading her to author 11 books. She is currently an Independent academic scholar and motivational speaker and feels that by working together we can bring a positive change to the world. Parin's ultimate her aim is to serve mankind until her last breath.