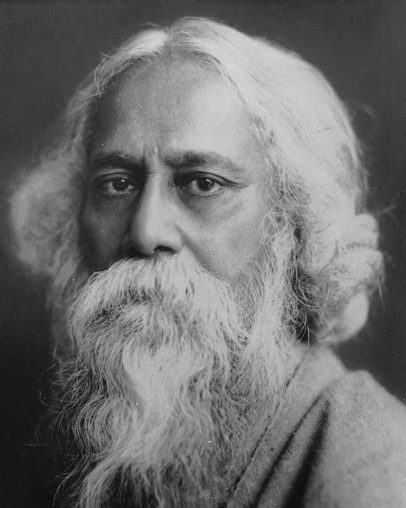 A new realisation about life has dawned upon us over last few months, many of us are either loving or loathing it, but yet one for sure, all of us are doing – we are recalibrating ourselves. What we thought was taken for granted has suddenly betrayed us. We have been going through an emotional roller coaster of trials and tribulations, and the one golden nugget that has kept us afloat so far is hope – our mental resilience and stewardship, especially when times are rather bleak and bleary!
Sangeet Foundation of London seems to have championed the cause of mental wellbeing under the aegis of Jayanta and Nupur Ray, who have been working very passionately to spread the message about that golden nugget in life which we often condone, and which is mostly what we need in times, like the present. There's nothing to be shy about in seeking for help if/when in distress; music is truly the selfless friendly hand that helps ride the tide and turn the corner.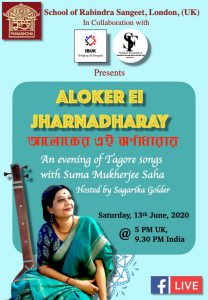 To promote that awareness further and make our mundane lives bit more endurable under the current conditions, Sangeet Foundation along with Punscha School of Music (London) and the Facebook group Indian Bengalis in UK (IBUK) organised an hour-long unique "online" musical evening based on Tagore's songs (Rabindrasangeet) on 13th June 2020. The "online" audience enjoyed an evening of most wonderful, joyous and vivacious renditions by Suma Mukherji Saha (ex-Shantiniketan) whilst the whole programme was very gracefully and pertinently presented by Sagarika Golder.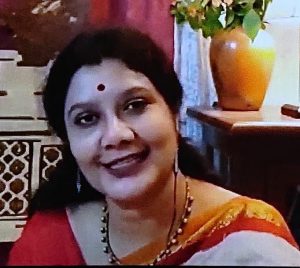 Suma started the evening with a soulful blossoming of "Bishwo Sathey Jogey Jethay Beharon…" – as you connect with the world my Lord, so do I connect with you too. It's that path of peace and enlightenment. This feeling of "oneness" was sustained further in her next song "Sei Bhalo Sei bhalo … emoni gondhey bidhur…", with which she welcomed us to the "milono-kunja" with deeply espoused emotion – a quintessential charm of the Tagorean music.
Sagarika elicited an interesting account behind the next song which Tagore himself sang without any traditional orchestral support at the request of the audience at the University Institute Hall. Suma captivated us with her rendition of "Tumi Kamone Korey Gaan Koro Hey Guni…" – an ever pervasive wonder and enigma that uniquely bejewels Tagore's compositions.
We feel a sudden pace and twist with her next presentation – "Amar Praner Manush Achhey Prane" – enthralled by the mystical appeal of the lyrics. Suma was inspired and introduced to the Tagorean music by her late father and quite befittingly she paid her tribute to him with this poignant rendition of "Amar Shesh Paranir Kori…". With "E pothey Ami Jey…" the audience was left wondering about the sense of social and spiritual belongingness that enriches our lives every moment.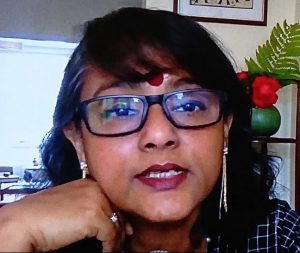 Thereafter, Sagarika told the story of Tagore's deep discomfort with his expanding fame and recognition, his introspection led to this ultimate compunction – "E Monihar Amay Nahi Saajey…", once again very exquisitely presented by Suma. "Nirabo Rajani Dyakho Mogno Jochhonaayey…" what a wonderful pictorial representation with words by Tagore even so when he was only 17!
We touched and smelt the lateritic trails of Tagore's abode Shantiniketan with Suma's palpable presentation of "Gram Chhara Oi Ranga Maatir Poth…". Tagore's sense of deep devotion and unequivocal reverence for the Almighty exuded by Suma in her presentation of "Chorono Dhoritey Diyogo Amare…". As the musical evening drew to a closure Suma chimed with the central theme of this delightful programme – "Aloker Ei Jhornadharayey Dhuiyey Dao…" – let the divine blessings shower upon us, transcending all boundaries and let the fountain of life flow all over, once again!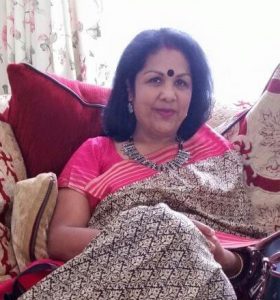 On behalf of Punascha, Shyamali Basu, an alumni of Shantiniketan herself and an eminent exponent of Rabindrasangeet in the UK, expressed her heartfelt thanks and gratitude to Suma and to everyone involved in making this unique effort possible and brilliantly successful. On parting Shyamali alluded to Tagore's words that the unique sense of oneness emanated by the mystical Shantiniketan binds and cherishes everyone, and makes us realise that we are all in this together.
You can catch the programme on: https://youtu.be/M1e1hEHK21M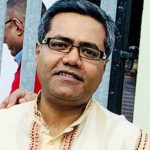 Anindya from Gloucester, Cotswolds has spent two decades in UK. He learnt Rabindrasangeet from his childhood and spent many years under the tutelage of the famous maestro late Smt. Maya Sen in India. Anindya rekindled his Tagorean passion in the UK by associating himself with Punascha, under Smt. Shyamali Basu. He plays the violin in his free time and to fund his plethora of predilections and passions, Anindya finds himself serving as a public servant in the world of nuclear regulation.